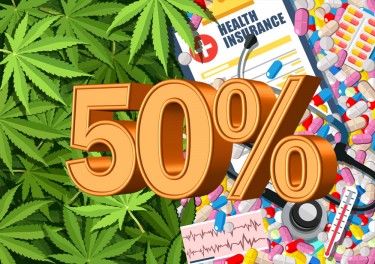 How Medicaid Could Have Saved $1.01 Billion
Over the last few years, the cannabis industry has seen rapid growth in states to authorize the use of cannabis, whether for recreational or medical purposes. But despite this, the states run extremely limited programs on how cannabis can be used while the federal government has continued to turn a blind eye on its legality.
On the other hand, the healthcare industry continues to view cannabis as a risk. Though some carriers have expressed interest in covering cannabis use for group or insurance benefit, most insurance carriers still refuse to quote on cannabis use and to this day there are still no special health insurance plans that cover MMJ.
A recent report compiled by Quote Wizard by Lending Tree LLC reveals some interesting insight on the healthcare industry – specifically the fact that people who live in states where cannabis is NOT legal tend to shop for health insurance at double the rate of people who live in states where it is legal. Meanwhile, a 2014 study by Health Affairs analyzing Medicaid found that Medicaid prescription drug use reduced in states where pot is legal, concluding that "if all states had had a medical marijuana law by 2014, we estimated that total savings for fee-for-service Medicaid could have been $1.01 billion."
A 2016 study by Health Affairs, this time on Medicare, found that MMJ has had a positive impact on the insurance provider's bottom line in states that have legalized cannabis. "The savings, due to lower prescription drug use, were estimated to be $165.2 million in 2013, a year when 17 states and the District of Columbia had implemented medical marijuana laws," says UGA. "The results suggest that if all states had implemented medical marijuana the overall savings to Medicare would have been around $468 million."
Cannabis is widely used by millions of people to treat many life-threatening conditions that, without cannabis, their medications are enough to make people go broke. These include cancer, ALS, AIDS, multiple sclerosis, and epilepsy to name a few.
Why Insurance Won't Pay For Medical Marijuana
Quote Wizard sheds some light on why patients can't use their flexible spending accounts or health savings accounts to cover cannabis use. It's because while these accounts can be used to pay for medical treatments and other products that health insurance plans won't, and people think that cannabis is covered, the reason behind that is still the fact that cannabis is illegal on a federal level even if it's used to treat medical conditions.
The bottom line is that flexible spending accounts and health savings accounts can't be used to pay for illegal substances. However, you can use these funds to pay for prescriptions such as Syndros or Marinol, even if physicians recommend them in special cases only AND when all other treatment options have been tried to no avail.
In some cases though not all, patients may be able to use flexible spending accounts or health savings accounts to pay for physician visits that are related to MMJ recommendations, but it's always best to be sure first and check with your provider. Otherwise, if they don't allow it, you might have to pay a penalty.
What If You Can't Afford Your Marijuana Medicine?
Quote Wizard has shared some helpful tips on what patients can do if they can't afford their MMJ medications. After all, though it works and is generally still more affordable than prescription drugs, there are many that simply struggle to make ends meet these days.
They shared that in some states, the patient card fee or medical cannabis registration fee has been reduced for individuals who are on government assistance. If you are on assistance, just get in touch with your state program to see if you can avail of a discount. It also helps to register with your state MMJ program or at least get a patient card EVEN if it's available recreationally, since medical dispensaries tend to be more affordable than recreational dispensaries.
So Why Do More People In Non-Legal States Shop For Insurance More Than Those In Legal States?
Well, there are a few reasons why. One widely documented reason is the fact that cannabis is a viable, safe, and more affordable substitute for opioids. There are many studies that back up this claim.
A 2020 study published in the European Journal of Pain states: "Patients with chronic pain, licensed to use MC [medical cannabis] in Israel reported weekly average pain intensity (primary outcome) and related symptoms before and at 1, 3, 6, 9 and 12 months following MC treatment initiation. … At one year, average pain intensity declined from baseline by 20 percent. All other parameters improved by 10 to 30 percent. A significant decrease of 42 percent from baseline in morphine equivalent daily dosage of opioids was also observed."
Another 2020 study published in the American Journal of Public Health says: "[We] evaluated the impact of frequent cannabis use on injection cessation and injection relapse among people who inject drugs (PWID). … [W]e found that at-least-daily cannabis use was associated with an increased rate of injection cessation, and this effect was restricted to the cessation of opioid injection. We did not observe a significant association between at-least-daily cannabis use and injection relapse. … To our knowledge, this is the first longitudinal study to identify a positive association between cannabis use and cessation of injection drug use."
Quote Wizard attributes this to a few other reasons, such as the possibility that more people in legal states are open minded to using alternative medications which also aren't covered by health care, or perhaps cannabis makes you so healthy you don't need healthcare at all! Whatever the reason is, CANNABIS WORKS.
HEALTH INSURANCE FOR WEED, READ MORE…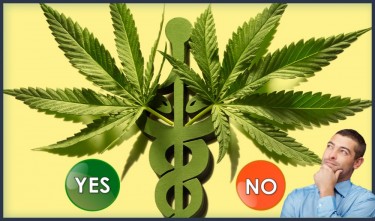 SHOULD HEALTH INSURANCE COVER MEDICAL MARIJUANA COSTS?
OR..
HEALTH INSURANCE AND MEDICAL MARIJUANA, WHAT ARE THE PLANS?