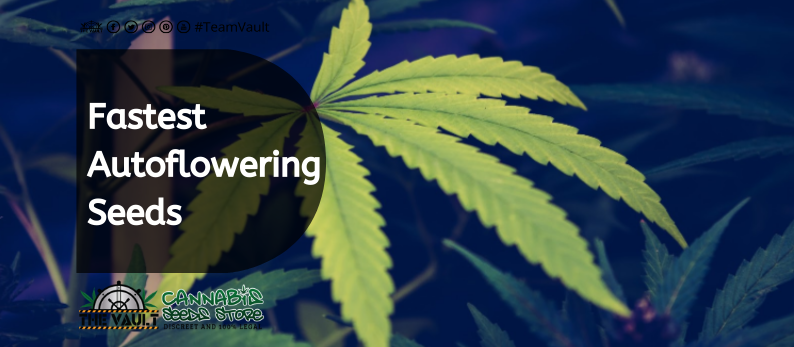 One of the primary reasons for purchasing autoflowering strains is their growing time. For those of us who don't have lots of time to spare or space for the matter, or who maybe have shorter summers, a short flowering time is ideal. Fast flowering is also perfect for commercial growers who need a faster turn over in their crops. Honestly, there aren't many reasons to not want a fast flowering crop. Autoflowering strains are usually pretty speedy, but the following strains are the fastest of the fast. They really take the waiting out of cannabis growing, which I think is just lovely.
Speed +
Let's get started with a strain that just tells it like it is. Speed is the name of the strain for good reason. This strain is a combination of Critical Mass and Speed Devil #2. Both of these parent strains are extremely popular for different reasons. They also both bring the best bits of their genetics to their baby. Of course, the Speed Devil parent gives up some of that fast flowering power, and Critical Mass adds its amazing yields to the mix. It is an Indica/Sativa mix but has a distinctly Indica feel to the stone. It is full-body relaxation all the way making it ideal for bedtime. Speed + will be ready for harvest in just 49 days and produces yields of around 350 – 500 g/plant indoors.
Purple Mazar
This Indica dominant strain comes from great stock. A combination of Purple and Mazar, funnily enough, with a touch of Ruderalis thrown in to speed up that flowering time. She is best known for her impressive colouring, a bright purple that will definitely stand out. The leaves are bright green, contrasting delightfully with the purple colas. She is often recommended for medicinal users due to her knock out effect. Her THC level is around 18% and the stone is extremely relaxing. She can be grown indoors or outdoors and will be ready for harvest in just 55 days from germination.
Gorilla Glue
Gorilla Glue is a super famous strain in its own right, and now it has been crossed with Auto #1 to create a fast flowering version with amazing yields and the same Gorilla power. This strain has a THC level of 23% and should probably be smoked sitting down. It is a heavy Indica and has a habit of glueing those who smoke it to the couch. Make sure snacks and any other necessaries are in reach before indulging. It also makes a fantastic night time strain as well as a medicinal strain for those suffering from nausea, pain, muscle spasms and insomnia. This strain will be ready in just 70 – 75 days from germination and produces amazing yields of super sticky buds.
Green Poison Fast Version
This strain was especially bread to be super speedy and so was basically born into its place on this list. This baby is ready for harvest in just 6 weeks, pretty damn impressive. She is Indica dominant and has a lovely happy and relaxing stone. She is actually often used by those suffering from anxiety and depression. She is not only super fast but gives amazing yields and can be grown indoors or outdoors. She is perfect for all kinds of growers and breeders. Indoors her yields can reach 500 – 600 g/m2 and outdoors around 500 – 700 g/plant.
White Widow Express
This baby is perfect for all the old school growers out there who love a classic strain. White Widow is basically THE strain. She has been around for decades and has never had a dip in popularity. She is named for her amazing resin production and well known for her power. She has a flavour and scent of citrus and a hint of sweetness, mouth-watering. The effect is relaxing but uplifting and euphoric, often used by those suffering from stress, anxiety, pain and depression. It will only take 7 weeks from germination to harvesting.
AK27 Express
The word 'Express' in the title of the strain is usually a good indicator that it belongs on the list of fastest auto strains. It is a balance of Sativa and Indica which gives it a great stone that is both happy and relaxing. AK 27 Express goes from seed to harvest in just 7 weeks, perfect for shorter summers. It grows well indoors, outdoors and in greenhouses which makes it ideal for all types of growers. She also comes from AK genetics which has been a trusted aspect of the cannabis breeding pool since the 90s.
Giga Bud
A combination of Big Bud and Northern Lights, two exemplary strains. Giga Bud is an Indica dominant strain that provides a delightfully relaxing effect. It is often used as a medicinal strain by those suffering from issues such as depression, insomnia and anxiety. It has a fruity scent and flavour, a mix of citrus, pineapple and oranges. If the temperature is dropped towards the end of flowering Giga Bud will take on a lovely purple colour. The best part is that she flowers and will be ready for harvest in just 5 – 6 weeks.
Chronic Ryder
Chronic Ryder comes from the creator of the original autoflowering strain Lowryder. This strain is actually a cross between Chronic and Lowryder. The resulting strain is a high yielding and super-fast flowering strain that balances Indica and Sativa. This strain is also easy to grow making it perfect for all types of grower. The effect of the strain is light, positive and happy with a lovely soothing relaxation. The flowers are covered in a dense coating of resin crystals giving it a glittery look. Chronic Ryder will flower in just 65 days and it can be grown indoors, outdoors or in a greenhouse.
All of these strains are fantastic options for the grower who is looking for something fast, efficient and high yielding. There are so many options when it comes to autoflowering strains, it's always good to explore all the strains available. A bunch of other autoflowering strains can be found on The Vault Cannabis Seed Website.
Remember: It is illegal to germinate cannabis seeds in many countries including the UK. It is our duty to inform you of this fact and to urge you to obey all of your local laws to the letter. The Vault only ever sells or sends out seeds for souvenir, collection or novelty purposes.
Make sure you never miss another Vault promo and sign up for our newsletter at http://goo.gl/Bt2Ba2
*Image from Unsplash