The most potent Full Spectrum CBD Tincture/Oil is our Maximum Strength Full Spectrum Tinctures!
We have worked with our extracting partners to produce a CBD Tincture unlike others on the market.
Every single dropper full is complete with over 100mg CBD, 11mg CBG, 4mg CBDa, 2mg CBC, and almost 3mg delta 9 THC! This is as potent as we can get and still be compliant with Federal guidelines. (In other words, you are getting around 125mg per dose (1 dropper).
Every single drop contains 5.79mg of total cannabinoids!!
Not only do we use the highest percentage possible of our extracting partner's supercritically CO2 extracted Full Spectrum Two Beards hybrid cannabis sativa strain extract, but we combine that with a subcritically CO2 extracted Broad Spectrum distillate to boost the CBDa numbers. And still then, we added a CBG distillate, as well!
To address fatigue, focus and energy, we have added the Adaptogen: Ashwagandha !
Quality is not subjective. We have our oils third-party lab tested for Potency, Microbial Contaminants, Residual Solvents, Heavy Metals and Pesticide Residue (click links further down the page to view Certificates of Analysis). This means you truly know what you are paying for and what you are taking.
Below you are going to find a TON of information about our Full Spectrum Tinctures. We have tried to answer any questions you may have. But if you need a question answered or have any concerns, reach out for more help!
Revive CBD has the best CBD Oils/CBD Tinctures around!
What is a Tincture? When speaking about CBD, the term "tincture" is just a fancy way of saying CBD Oil. While the official definition of tincture is a bit different, our industry has somewhat adopted this term to mean CBD with a carrier oil. Revive CBD Full Spectrum Tinctures are the best-selling products we carry at our main shop in Littleton, CO. That's because we offer the best CBD Oils on the market.
What does Full Spectrum mean? Full Spectrum means while CBD (Cannabidiol) is the main cannabinoid present, these tinctures have many others. To be Full Spectrum, the tincture must also include small amounts of THC (always less than 0.3%). The theory is that when CBD also has these other cannabinoids (especially THC) it can help create what is known as the Entourage Effect.
What Cannabinoids are present in Revive CBD Full Spectrum Tinctures?
How is it made/Extracted? Revive CBD partners with an extraction company located in Steamboat Springs, CO to offer a clean, safe & potent supercritical CO2 extracted CBD Oil! CO2 extraction is widely thought to be the safest method of extraction yielding the cleanest end products. Supercritical means the extraction is done at higher temperatures & pressures. In addition, this tincture contains a Broad Spectrum Distillate to improve CBDa numbers (and others). This Broad Spectrum Distillate is Subcritically CO2 extracted. Subcritical means the extraction is done at extremely low temperatures.
Ingredients: MCT (Fractionated Coconut Oil) is used as the carrier oil, Two Beards™ USDA Certified Organic Full Spectrum Extract derived from Industrial Hemp
Why do you use MCT Oil: To best get the CBD and other Cannabinoids to carried into the the body, a carrier oil is needed. We blend the extracted oil with a MCT (Fractionated Coconut Oil) carrier oil. Fractionated Coconut Oil is thought to be an excellent carrier for the extracted CBD; it is flavorless and quickly absorbs into the body because, as its name implies, it is Medium-Chain Triglycerides, which are quickly absorbed directly into the portal circulation and transported to the liver for rapid oxidation. (Read more about MCT Oil here)
Certificates of Analysis/Third-Party Lab Testing: Each batch of our Full Spectrum CBD Oil is third-party lab tested and all results can be found online. Revive CBD currently has each batch tested for potency, microbial contaminants, residual solvents, pesticide residue & heavy metals. We never offer a product to our customers without first receiving all perfect results back from the lab. Revive CBD typically uses Botanacor Labs for our testing. They are right here in Colorado, and are the nation's most compliant facility. With all these Certifications, Revive CBD in Littleton, CO is confident we offer the best CBD Oils for you!
To check the results of the third-party lab test, click the links below:
Related: Read our blog post about reading Certificates of Analysis!
Full Spectrum CBD Oils or Tinctures:
Certificates of Analysis (Click Here to View)
Directions for Use: With any CBD tincture, it is best to leave the oil under the tongue for up to five minutes for best absorption. The reason this is so important is because there are several glands under the tongue which readily accept different vitamins & medicines. The Cannabinoids in the tincture are similarly absorbed well through these glands.
Dosing: In the 500mg, 1000mg, and 2000mg Full Spectrum Revive CBD Tinctures, each dropper contains approximately 33.3mg of CBD. The 15mL 250mg droppers each contain approximately 16.6mg of CBD. Most people take 20-30mg at a time, and usually 1-2 times a day. While there is no definitive guide to dosing (everyone is different), we have a dosing calculator to help!
What to Expect: First, the FDA doesn't allow any medical claims. So while we would love to discuss your desired outcome, we can't make any promises of efficacy. What we will say is that most people tend to need to take the tinctures regularly for several days to build the cannabinoid levels in their CB1 and CB2 receptors. You will not get high from this product.
Tinctures can all be purchased in various flavors: Strawberry, Blueberry, Watermelon, Bubblegum, Peppermint, Cinnamon or Lemon! Flavors are light and generally help to mask the slight hemp flavor of the tincture. Most people still prefer the unflavored version of the tinctures! These CBD Oils are the best!
This Product is always available at Revive CBD our Littleton store in the Kipling Marketplace!
Other locations where you can buy the best CBD Oil by Revive CBD:
High-Voltage Vapes in Aurora (Aurora Town Center)
N2 Vapes in Aurora (Near Southlands Mall)
Shipping is available for tinctures! We normally ship out the same day as the order is received and use USPS! Shipping is always FREE from Revive CBD. Getting the Best CBD Oil in Littleton is easier now, even if you live out of state!
Daily Deals! Online and in-Store this product is Buy One Get One Half Off everyday. That's right! Mix and match any Revive CBD branded products for BOGO 50% OFF! Revive CBD in Littleton has the Best Deals on CBD. Discounts are automatically included in the final checkout screen. (Our system is set to take 25% off each product when more than 2 are ordered – this allows you to select a variety of products and still save)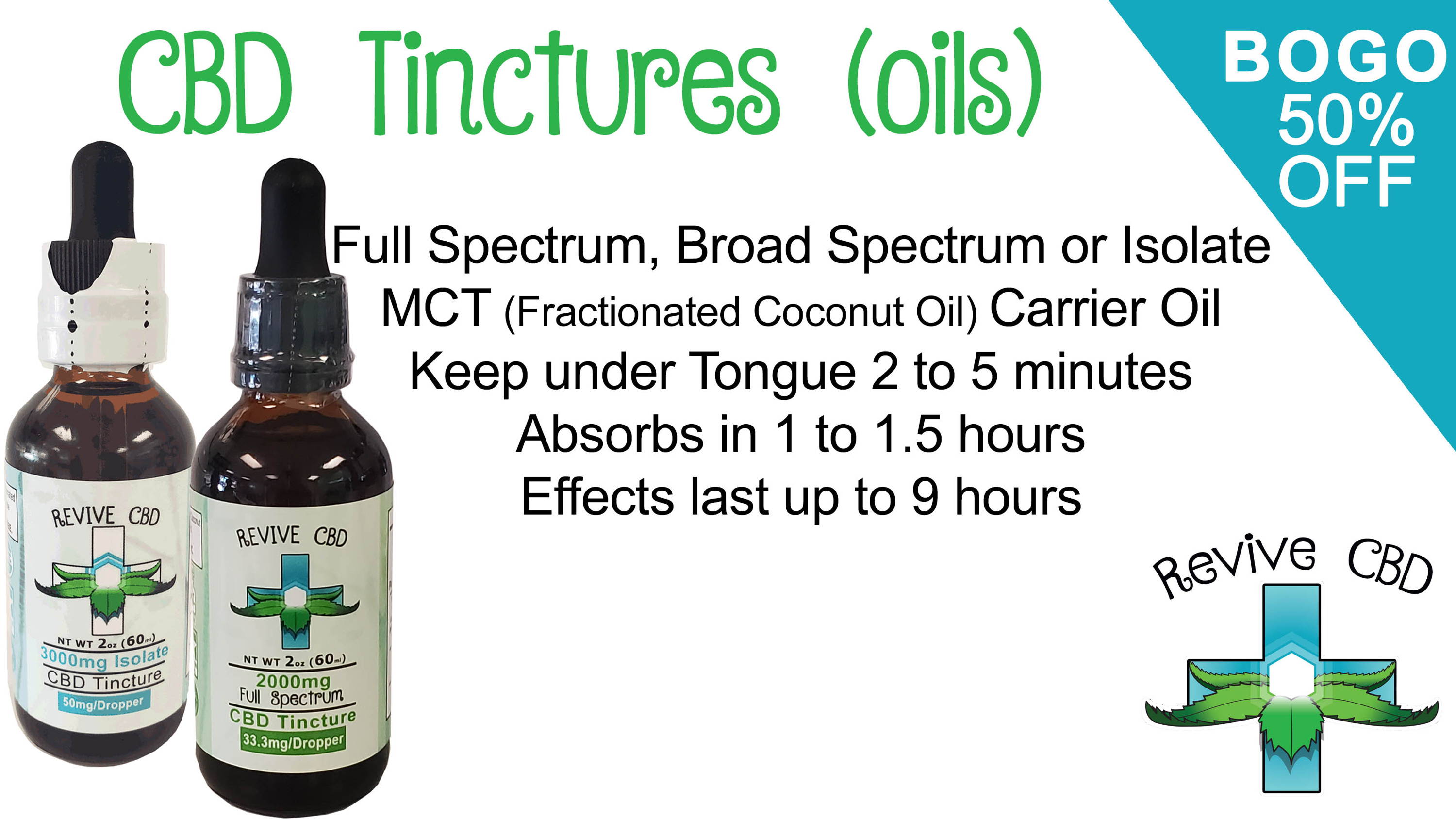 At Revive CBD, we only offer the Best, Highest-Quality and Potent CBD Products. Thank you for considering Revive CBD and supporting our small local business! Best CBD Shop in Littleton, CO is Revive CBD!
FDA DISCLAIMER:
The statements made regarding these products have not been evaluated by the Food and Drug Administration. The efficacy of these products has not been confirmed by FDA-approved research. These products are not intended to diagnose, treat, cure or prevent any disease. All information presented here is not meant as a substitute for or alternative to information from health care practitioners. Please consult your health care professional about potential interactions or other possible complications before using any product. The Federal Food, Drug, and Cosmetic Act require this notice.
This Product Contains Less Than 0.3% THC.