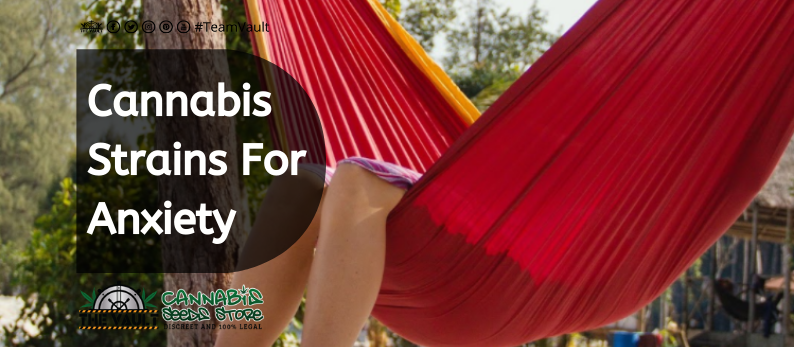 There are so many different reasons to smoke, whether it be therapeutic, recreational or medicinal. Each strain has a different effect and these can be used to treat a number of issues. Many sufferers of anxiety either don't have access to medication, find it doesn't work for them, or struggle to visit a doctor as anxiety can make talking to professionals extremely difficult. Whatever the reason most of us struggle with anxiety at one time or another, especially at the moment. This is a list of strains that are well known for helping to soothe anxiety, no matter how serious it is. Of course, smoking is not a cure-all and for those suffering severely from anxiety, it is always a good idea to speak to a doctor.
This happy little strain is a cross between Romulan, Orange Skunk and Cindy 99. She is an Indica/Sativa mix which is perfect for anxiety sufferers. She manages to be both happy and relaxing at the same time, providing a smooth and soothing effect with a blissed-out edge. Her flavours are fruity, ranging from orange to mango to apple and with just a little hint of sweetness. Her THC content isn't too high, around 11%, which means she's not likely to induce paranoia or mess with the brain too much. For many, relaxation requires staying in control, so a lower level of THC is usually the way to go. She grows well indoors and outdoors with a short flowering time of just 8 weeks.
Girl Scout Cookies is a classic strain with a slightly perkier effect. She is happy, social, talkative and creative. This is great for anyone who struggles from anxiety on a daily basis and struggles to get things done as a result. Anxiety can be the death of socialising, but this strain allows those who find interaction difficult a little bit of comfort. This strain can improve confidence, motivation and even lateral thinking which can help with anxiety-induced panic. Many of us struggle to get things done when we are anxious because it all gets muddled in the mind. The THC level is much higher on this strain, around 20 – 22% so it may be a good idea to take things slowly initially. She grows well indoors or outdoors and takes about 9 – 10 weeks to flower.
This strain is an Indica and is well known for its extremely relaxation. It has a very physical effect as well as an enjoyably soft and soothing mental effect. This is perfect for anyone who starts experiencing anxiety around the evening time, and so struggles to sleep. For a lot of people who suffer from anxiety the worst times are those when you should otherwise be relaxing. This strain can be quite strong so anxious smokers should be careful with amounts, it doesn't take much. For anyone who suffers from anxiety-induced insomnia or nightmares, this is the perfect strain. It's incredible what a full and uninterrupted night of sleep can do for the brain. This strain has a short flowering time of 7 – 8 weeks and can be grown indoors or outdoors.
Due to the high CBD levels of this strain, it has long been considered medicinal. She is well known for her soothing, relaxing and uplifting effect which is ideal for anxiety sufferers. She is also used for a number of other ailments such as chronic pain, PTSD, arthritis, fibromyalgia, insomnia and Multiple Sclerosis. The primary reason for her excellent anti-anxiety effect is not only her high CBD but her low THC. This means she is unlikely to have any mind-altering effects and those who are naturally anxious don't have to worry about getting too high. The effect is simply one of general wellness and calm. She has a sweet yet musky scent which only adds to her relaxing effect. She produces impressive yields and can be grown indoors, outdoors or in a greenhouse. Personally, she is my favourite anti-anxiety strain because there is no chance of paranoia or feeling out of control.
White Widow ends up on most of these lists, but that is just down to her incredible effect and overall quality. This is another high CBD version with a low to middling THC. Again this means that she has all the soothing and calming effects without the chance of paranoia or other psychotropic results. This strain is tried, tested and has been around forever. She is a favourite in Amsterdam coffee shops and has been since the 90s. For any anxious users who are new to picking strains for their particular issue, White Widow is always a safe choice. White being soothing and relaxing she is also motivational and active. This is great for anyone out there whos anxiety lies in not being able to get stuff done. This strain allows you to focus and get on with things rather than freaking out about how they haven't been done yet. Again this is a strain that I am particularly a fan of as someone who struggles to get on with their work when anxiety hits. She has a flowering time of just 65 – 75 days and can be grown indoors or outdoors. Since she is such a popular strain she can also be found in feminised and autoflowering forms as well as regular.
Finally, we will end the list with Purple Punch, a high yielding Indica strain that is ideal for night time. The effect is floaty and soft with a soothing feeling like having your hair lightly stroked. The initial hit of the strain is pretty intense and uplifting, but then it softens into a silky smooth high that just lets stress melt away. This strain is much higher in THC, which becomes clear when the final stage kicks in, the sedative. After the lovely, fluffy euphoria comes a heavy soporific softness that will send even the most anxious brain off to sleep. She has a flowering time of 50 – 60 days and can be grown indoors or outdoors.
Remember: It is illegal to germinate cannabis seeds in many countries including the UK. It is our duty to inform you of this fact and to urge you to obey all of your local laws to the letter. The Vault only ever sells or sends out seeds for souvenir, collection or novelty purposes.
Make sure you never miss another Vault promo and sign up for our newsletter at http://goo.gl/Bt2Ba2